Fern Field Brooks ...
is a television producer/writer/director who's been working for the past three years as a television network executive for USA Network and the Sci Fi Channel. She joined the network ranks in the summer of 1996 as Director of Current Programming for both networks and development for SFC and in October of 1998 was promoted to Vice President of Programming for the Sci Fi Channel.
Just prior to her husband's death and while she was writing "Letters To My Husband", Fern Field Brooks was not quite sure where she lived. Although she had a home in Marina del Rey and one in Palm Desert, her career had her shuttling between New Zealand, Canada and Paris as supervising producer on The Ray Bradbury Theater and "Counterstrike."
When that series came to an end in 1993, she went off to New York to have a taste of executive life, filling in for the VP of Programming at USA who was on maternity leave. Brooks then produced a documentary on international adoption for the network, sequencing to a job in Toronto as producer on an international soap opera titled "Family Passions" - a Canadian/German co-production. In 1995 she produced a television movie for USA which shot in and around Los Angeles - the first time she had worked in the city where she lived since the early 80's.
By then she realized that the life of a freelancer meant she was always "saying good-bye" - "losing" her professional family after the gig was over. It became apparent that what she needed was some stability in her life or her "per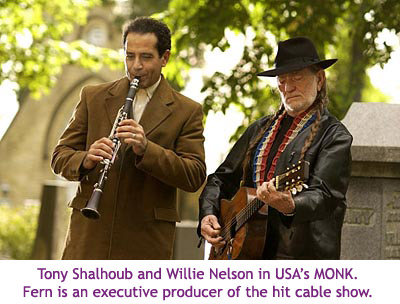 iod of mourning" would never end. Thus, when an opportunity for steady employment with USA Network in Los Angeles presented itself, she jumped at the chance.
Today, she is hard at work supervising the production of the hit USA show, "MONK," starring EMMY winner Tony Shalhoub.
Fern Field Brooks began her career in television working on Norman Lear's television sitcom "MAUDE". During one of the show's hiatus periods she produced a featurette which was nominated for an OSCAR and subsequently she produced and developed children's programming, movies and mini-series for Lear's companies and then partnered with her husband, Norman Brooks, under their own banner, Brookfield Productions. She has received an EMMY, two PEABODY Awards, two HUMANITAS Awards and a DISTINGUISHED SERVICE Award from the President of the United States for her work with the disabled.
Born in Italy of Russian parents, she grew up in New York, returning to Rome as a young newly wed to continue her operatic studies and concert appearances. She considers "singing" the first career she gave up. Returning to New York from Rome after separating from her first husband, she went to work for an industrial film company and wound up marrying her boss. She characterizes that relationship as the most traumatic of her life. After meeting her third husband-to-be, she moved to Los Angeles in the mid-seventies. She and Norman Brooks had known each other for twenty-three years and they had been married for eleven years when he died.
"Letters To My Husband" is Fern Field Brooks' first book, but she is now working on a sequel, "More Letters" and an autobiography, "Producers Don't Cry." She is also creating a line of gifts books including "Food For Thought." For additional information regarding these titles, e-mail your queries to: Fern@LettersToMyHusband.com
* * *
from the author l grief resources l reviews l readers' comments l buy@amazon.com l about the author